HOME
> Greeting from Chairman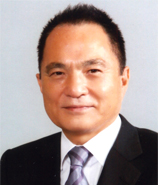 Yutaka Seino M.D. Ph.D.
President, Kansai Electric PowerHospital, Osaka
Emeritus Professor of Kyoto University,Kyoto
Board of the Directors,The Japan Diabetes Society
Chair, The Japan Association for Diabetes Education and Care
Chair, The Japan Society of Metabolism and Clinical Nutrition

As you know, the rapid increase in number of diabetes patients is becoming a huge medical problem in Asia. Based on the understanding that the phenotype of diabetes in Asians (non-obesity and insulin secretory dysfunction) typically differs from that in other races (obesity, insulin resistance), various specialized diabetes medical research and care groups have been formed in Asian countries. Even so, the critical need for further research on diabetes specifically among Asians has led us to organize the Asian Association for the Study of Diabetes (AASD).
This new organization was launched officially on March 6 of this year; We call up Diabetes Associations/Societies in Asia to participate AASD. AASD will aggressively promote research activity on diabetes specifically in Asian countries, with the aim of promptly improving diabetes treatments and care for Asian diabetes patients. Twenty Associations/Societies in East and South East Asian countries have officially joined AASD, and all members in the IDF/WPR region are encouraged to participate.
The official peer-review journal of AASD, The Journal of Diabetes Investigation (JDI), will publish both basic and clinical specialized research in diabetes bi-monthly, with a call for submission of manuscripts soon and a first issue slated for January, 2010.